Jack Sanders
Photos by BIRON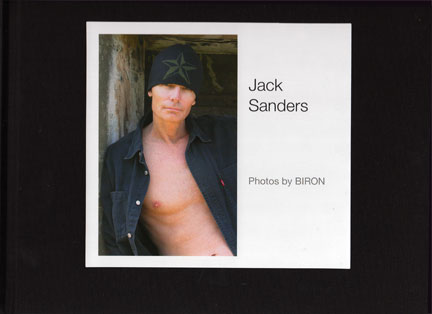 Photographer Biron's male model Jack Sanders is featured in the limited first edition, published in September 2007, and available from both the photographer and model. The book shows the versatility of this handsome Los Angeles model and porn star who exemplifies Biron's notion of the Erotic-Portrait. (Read more)
In his Preface, Jack Sanders states:
"What a day it was when Biron contacted me about doing a photo shoot. He had seen a black & white amateur photo of me. I quickly agreed, and planned my first trip to visit his Nob Hill studio in San Francisco. What follows is the result of a series of four visits and shoots in eight different locations. At Baker Beach, near the Golden Gate Bridge, we shot in the fading light after sunset. As the sun was setting, we slid down that muddy 100' cliff and I tore off my clothes. Biron motioned me to the big rock with urgency; and that 'silhouette photo' is shown on a page on the left side. Facing is a full page image of the sky filled with shades of red and amber just after the sun had sunk into the horizon. After a few more shots, we climbed back up to the road in the dark. Some of the other San Francisco locations include Land's End with it's colorful graffiti, the WW II bunkers and gun emplacements overlooking the entrance to the Bay, the SOMA back streets, and a downtown rooftop near the Pyramid Building. I began my modeling career in college art classes. Nude modeling paid more than clothed and seemed likely more fun! In the last few years, aside from these San Francisco photos with Biron, I have also done photo shoots in Los Angeles, Palm Springs, and New York. In addition, I have worked in front of the camera in over 20 adult videos. It has allowed me to travel and meet a variety of folk I would not otherwise have had the opportunity to know. I hope you enjoy these photographs. Male beauty is everywhere we care to look for it."
Biron's multicultural male photographs, which attempt in their explicitness to blur artificial distinctions between art and pornography, have been exhibited at the Scott Nichols Gallery in San Francisco and at the Au Bonheur du Jour Gallery in Paris. His photographs have also appeared in three books by Janssen Verlag and several magazines internationally including aK, OG, blue, XY, Trikone and Frontiers.
This 8.5"x11" hardcover book contains 80 original full-color Photos by BIRON printed on quality glossy paper is available, post-paid, at the special price of $150. For more information, click on the above image or email: <photosbybiron@me.com> or mail check payable to L. Biron, 770 California St. #307, San Francisco, CA 94108. California residents please add applicable sales tax.
Photos by BIRON © 2007-2021. All rights Reserved