BOYS AND FLOWERS
Photos by BIRON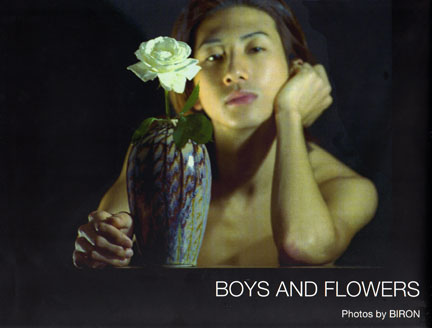 Photographer Biron's BOYS AND FLOWERS is the artist's most ambitious book to date with 50 multicultural models and 250 Photos by BIRON in a limited edition. This 8.5"x11" hardcover book, published in December 2007, is printed on quality glossy paper and available from the photographer. This first edition is signed and numbered by the photographer and contains one loose 8"x10"signed color print in a protective glassine envelope.
In his Preface, Biron states:
"Over the years, I have photographed hundreds of multicultural males in my San Francisco studios. Often I would use flowers as part of our shoots. This book is a collection of those photographs with fifty models taken over the past fifteen years.
The theme of carpe diem when transposed from a beautiful young woman to the emerging young man within the boy is the inspiration for many of these images. "Mignon, alons voir si la rose ..." Ronsard might well have written had he been similarly inclined. As a photographer speciaizing in 18+ multicultural beauties, I have gathered, over the years, as many photographic rosebuds as I could. I hope you enjoy the results of this endeavor and will see the obvious connection with the boys and the variety of flowers in full bloom at the peak of perfection."
Biron's multicultural male photographs, which attempt in their explicitness to blur artificial distinctions between art and pornography, have been exhibited at the Scott Nichols Gallery in San Francisco and at the Au Bonheur du Jour Gallery in Paris. His photographs have also appeared in three books by Janssen Verlag and several magazines internationally including aK, OG, blue, XY, Trikone and Frontiers.
Email for availability: this deluxe limited first edition (only 100 copies) is available directly from the photographer or from the Au Bonheur du Jour Gallery in Paris. For additional information and sample pages of the books, please click on the image above or email: <lphotosbybiron@me.com>. or write: L. Biron, 770 California St. #307, San Francisco, CA 94108-2421.
Photos by BIRON © 1997-2021 All Rights Reserved