BAD BOYS OF THE MARQUIS DE SADE
Photos by BIRON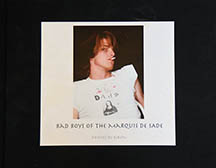 Over 50 of photographer Biron's sexy young male models are featured in the limited first edition of BAD BOYS OF THE MARQUIS DE SADE published in September 2007, and available in France exclusively at Nicole Canet's Au Bonheur du Jour Gallery in Paris.
In his Preface, Dr. Frits Staal, Professor Emeritus of Philosophy and South East Asian Studies, University of California at Berkeley, states:
The Marquis de Sade who has given us the word sadism, evokes a world of unbridled sexual energy. Biron's imagination rivals his but in a modern world that is more open: gay San Francisco. In the hands of a gifted photographer, the divide between reality and the imagination is slight.
Biron's multicultural male photography, which attempts in it's explicitness to blur artificial barriers separating pornography and art, have been exhibited at the Scott Nichols Gallery in San Francisco and at the Au Bonheur du Jour Gallery in Paris. His photographs have also appeared in three books by Janssen Verlag and several magazines internationally including aK, OG, blue, XY, Trikone and Frontiers.
This 8.5"x11" black clothbound hardcover books contains 168 original Photos by BIRON printed on quality glossy paper. This first edition is signed and numbered and contains, in a glassine protective envelope, one loose 8"x10" color print from the book that is also signed and numbered.
Priced at $600 (email for availability), this deluxe limited first edition is available directly from the photographer or from the Au Bonheur du Jour Gallery in Paris. For additional information and sample pages of the books, please click on the image above or email: <lphotosbybiron@me.com>. or write: L. Biron, 770 California St. #307, San Francisco, CA 94108. (California residents please add applicable sales tax.)
Photos by BIRON © 2007-2021 All Rights Reserved