Alex Hui
Photos by BIRON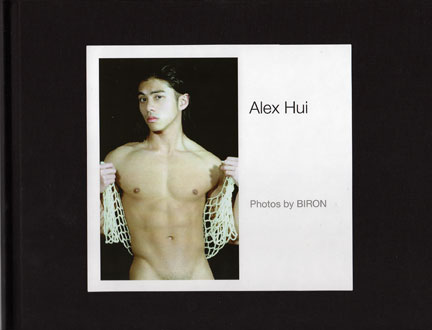 Photographer Biron's male model Alex Hui is featured in this limited first edition published in August 2007, and available from the photographer.
In the past few years, Alex Hui has been photographed by a long list of professional male and physique photographers including Davy Kirkpatrick, Kevin Caudill, Louis LaSalle, Steven Underhill, Edendale Studios, Mark Gebhart, Eric Jacobson of Impact Photography, Mark Jensen and Jerry Chism. Clifford Baker featured him in his book NAKED ASIAN (2003) and on a cover and layout for OG magazine (No. 27, 2000). Alex has also appeared on the cover and pages of PLAYGIRL magazine. In 2003, he worked briefly as a host for the Chippendales in Las Vegas.
His commercial modeling includes swim wear catalog work for Koala, several magazine and web ads, and four appearances on the Altoids Pride Parade floats in Los Angeles and San Francisco. In addition, he has, over the years, generously contributed his modeling to AIDS Prevention ad campaigns and to AIDS fundraisers in San Francisco and Sacramento.
On January 26, 2002, BIRON photographed Alex Hui in his San Francisco studio where the photos in this collection were all taken. This was their only studio shoot. Of the hundreds of male models he worked with over the years, this talented, handsome fitness trainer proved to be one of BIRON's very best as this set of erotic portraits demonstrate. This is a very special set of photographs that are here presented for the first time in this deluxe edition.
This 8.5"x11" black clothbound hardcover book contains 67 original Photos by BIRON printed on quality glossy paper. This first edition is signed and numbered and contains, in a glassine protective envelope, one loose 8"x10" color print from the book that is also signed and numbered by the photographer.
Priced at $600 (email for availability) this deluxe limited first edition (only 100 copies) is available directly from the photographer or from the Au Bonheur du Jour Gallery in Paris. For additional information and sample pages of the books, please click on the image above or email: photosbybiron@me.com . or write: L. Biron, 770 California St. #307, San Francisco, CA 94108. (California residents please add applicable sales tax.)
Photos by BIRON © 1997-2021. All Rights Reserved